Im Frühjahr 2006 kam ein Mitarbeiter des Deutschlandfunk in unser Studio, wegen eines Interviews zu den Séries Sonores. Irgendwann machten wir ein großes Fass auf, sprachen über die Mythologie des Hörens im christlich geprägten Abendland. Weil die Zeit dazu fehlte, lieferten wir unsere Ideenskizzen nach, in Form eines Selbstinterviews mit der Laufzeit eines Akkus.

Was wollen die Séries Sonores? Deutschlandfunk 2006
In the spring of 2006 a journalist of the German National Radio (DLF) came to our studio to ask us some questions about the Séries Sonores. Somehow we opened up to each other and our minds ran free regarding our thoughts about the mythology of listening in the christian western world. Because we had not enough time during his visit, we decided to send him a summary of our ideas by producing a self-interview, which lasted as long as one set of batteries.
CD bestellen 12.80 €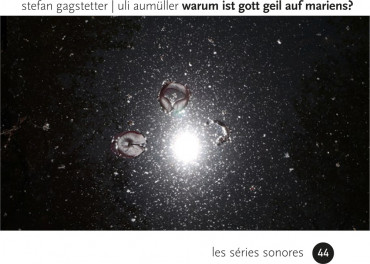 Bitte haben Sie kurz Geduld - die Audiodatei wird geladen!