Wenn man davon ausgeht, dass das Brandenburger Tor die Mitte Berlins ist – und Berlin die Hauptstadt Deutschlands – dann sind der Platz des 18. März und der Pariser Platz die Mitte von Deutschland. Umkränzt von Verkehrslärm strahlt der Platz selbst idyllisch dörfliche Ruhe aus: Drehorgelspieler, Pferdekutschen, klickende Kameras, Reiseführer, kichernde Japanerinnen.

Was wollen die Séries Sonores? Deutschlandfunk 2006
Suppose the Brandenburger Tor is the very center of Berlin - and Berlin is the capital of Germany - that makes the \"18th of March Square\" and the \"Pariser Square\" the center of Germany.
Although it is surrounded by heavy and noisy traffic, the square itself is characterized by idyllic, rural silence: barrel organs, horse-buggies, clicking cameras, tourist guides and giggling Japanese girls.
CD bestellen 12.80 €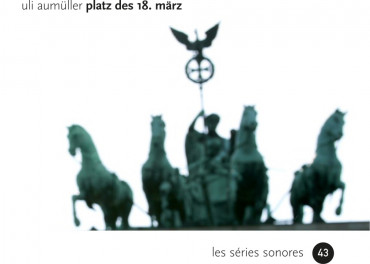 Bitte haben Sie kurz Geduld - die Audiodatei wird geladen!