Ein weiterer Klassiker in unserer Serie: Ein 80-minütiger Schonwasch- gang, das Mikrophon praktisch in der Trommel der Waschmaschine. Es gibt Leute, welche behaupten, das regelmäßige Glucksen und Schnurren würde Kinder in den Schlaf wiegen, weil sie dieses Geräusch an pränatale Erfahrungen erinnert.

Was wollen die Séries Sonores? Deutschlandfunk 2006
Another classic in our series: an 80 minute washing cycle recorded by a microphone placed practically inside the drum of the washing machine. Some people claim that the regular gurgling and purring sounds help children fall asleep because it reminds them of their prenatal acoustic world.
CD bestellen 12.80 €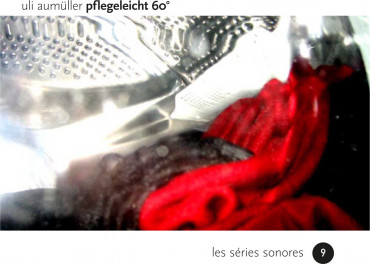 Bitte haben Sie kurz Geduld - die Audiodatei wird geladen!