Keine Frage – der Klassiker: 80 Minuten Wellenrauschen am Kiesstrand in der Nähe von Warnemünde bei mäßig bewegter See. Ab und an ein paar Spaziergänger, der Helikopter des BGS – aber sonst nur die Wellen in stetem Rhythmus und jedes Mal ein bisschen anders. Nervenberuhigend!

Was wollen die Séries Sonores? Deutschlandfunk 2006
Without any doubt a classic! 80 minutes of murmuring waves on a gravel beach near Warnemünde on a day when the sea was moderately rough. From time to time either some strollers or the border patrol helicopter pass by but mainly the constant rhythm of the waves is heard, each one producing its own sound. Very soothing!
CD bestellen 12.80 €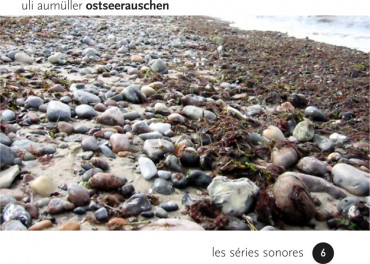 Bitte haben Sie kurz Geduld - die Audiodatei wird geladen!