Marktkauf ist ein großer Supermarkt, in dessen ausgedehnter Halle dutzende kleiner Lautsprecher die Käuferinnen und Käufer mit ihren Einkaufswagen in eine angenehme Stimmung versetzen. Mütter beruhi- gen quengelnde Kinder, alte Ehepaare beraten über den Sonntags- braten, Verkäuferinnen plaudern über den neuesten Klatsch.

Was wollen die Séries Sonores? Deutschlandfunk 2006
Marktkauf is a big supermarket and in the extended hall dozens of small loudspeakers put customers into a good mood while pushing their shop- ping carts. Mothers comfort their whining children, old couples confer about the Sunday roast, salesgirls chatter about the latest gossip.
CD bestellen 12.80 €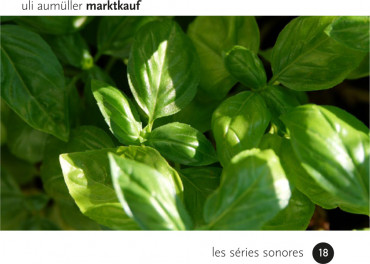 Bitte haben Sie kurz Geduld - die Audiodatei wird geladen!