Sommer 2005 in Kärnten/Österreich. Seit Beginn der Wetteraufzeich- nungen sind nicht so viele Gewitter, nicht so viele Blitzeinschläge re- gistriert worden wie in diesem Jahr. Eines dieser Gewitter ist mit dieser Aufnahme dokumentiert. Vom ersten fernen Grollen bis zu Einschlägen in unmittelbarer Nähe und zur Stille nach dem Sturm. 80 Minuten Naturschauspiel.

Was wollen die Séries Sonores? Deutschlandfunk 2006
Summer 2005 in Kärnten, Austria. Never before that year and ever since records started had more storms and thunderbolts been recorded. One of these storms is documented in this recording. From the first distant rumbling of thunder to when the thunderstorm passes right overhead and finally disappears into the distance. The drama of nature in eighty minutes!
CD bestellen 12.80 €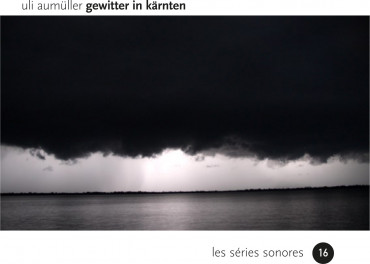 Bitte haben Sie kurz Geduld - die Audiodatei wird geladen!