Zur Realität gehören die Träume. Sie prägt uns so sehr, dass wir sie formen und verformen. Wir errichten sie und dekonstruieren sie andauernd, indem wir uns errichten. Und all dies passiert, ohne dass wir es bemerken. Die in diesen »flüchtigen Augenblicken« zusammengetragenen Geräusche versuchen einen Zusammenhang zwischen vergangener und gegenwärtiger Wahrnehmung hörbar zu machen. Obwohl später entstanden, sind alle Aufnahmen mit persönlichen Kindheitserinnerungen verbunden.

Was wollen die Séries Sonores? Deutschlandfunk 2006
Reality is made of the uncertainty of dreams. It occupies us in such a way that we keep forming and deforming it. In fact we continuously build and deconstruct it ourselves, without us being really aware of it. The same goes for sounds our memories \'daguérreotype\'. We often think sounds don\'t change until fifteen years later we notice that they did change.
Or are at least no longer perceived in the same way. Much like footprints give evidence of a passage, a presence. The sounds collected in these \'Moments Fugitives\' try to make impressions of the past and present audible.
CD bestellen 12.80 €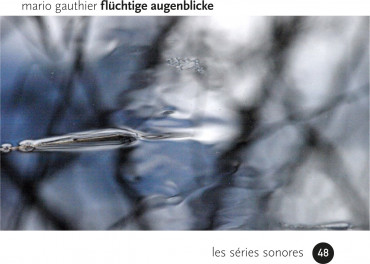 Bitte haben Sie kurz Geduld - die Audiodatei wird geladen!