Die Badestrände waren überfüllt. Der Jahrhundertsommer 2003. Die Kinder plantschen im Wasser und ver- suchen kreischend die Aufmerksamkeit ihrer Eltern zu erringen, die faul in der Sonne liegen. »Bürgerablage« ist der Name eines beliebten Havelstrandes im Berliner Stadtteil Spandau.

Was wollen die Séries Sonores? Deutschlandfunk 2006
A spectacular summer with overcrowded beaches in 2003. Children splash around in the water and shriek in an attempt to attract the attention of their parents who languidly lie in the sun. \\\"Bürgerablage\\\" is the name of a popular beach alongside the river Havel in the Berlin district Spandau.
CD bestellen 12.80 €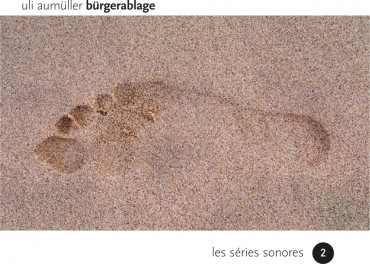 Bitte haben Sie kurz Geduld - die Audiodatei wird geladen!